Learn Stained Glass for Yourself
CHRISTMAS DECORATION WORKSHOPS:
Make your own decorations in a day, £75 per person includes all materials and tools, bring your own lunch 9.30-4.30pm
Trees, baubles, robins, penguins, christmas puds, candles, sprouts....!
Contact Billigoat Designs to arrange a date- max 3 people per workshop
Leaded Glass - One Day Beginners' Workshop
Create a leaded glass panel in a single day. No previous experience is required
Copper Foil - One Day Beginners' Workshop
Also known as the "Tiffany Technique", make decorative stained glass items with fine detail. No previous experience is required
Studio Day
Kate's expertise & studio equipment are available for those with previous experience of working with lead or copper foil & wish to do more. Please contact Kate to discuss your requirements
Workshops can be scheduled at a time to suit throughout the year - please phone or email Kate to discuss and book
General Information:
Location
The Basement Studio, 44 Burcot Road, Sheffield, South Yorkshire, S8 9FE
Located on the fringe of the city's Antiques Quarter. Street parking is available and unrestricted. Less than five minutes walk from bus stops at Heeley Retail Park on Chesterfield Road and less than ten minutes walk from bus stops near the Broadfield Pub on Abbeydale Road. For details of buses contact Traveline on 01709 515151 or at http://www.travelsouthyorkshire.com/contactus
Please note: the Billligoat Designs household contains at least one cat!
Workshops - The day
Courses starts at 9.15am and finish at or around 5pm, with a 45 minute break for lunch. Coffee and teas are available from 9.00am
Old clothes are most suitable, or an apron or similar protective garment. Comfortable closed-toed shoes are recommended. All the necessary materials, tools, safety and other equipment will be supplied and are covered in the cost of the course. If you wear reading glasses, please bring them. Please bring a lunch for yourself
Numbers of students are limited to a maximum of 3. This ensures tailored and personal tuition for all participants
Lunch
Please bring a packed lunch with you. Teas, and coffee are unlimited & available throughout the day
Leaded Glass Workshop - Overview & Prices
The One Day Workshop introduces you to the traditional skills of leading glass, used for centuries in the making of stained glass windows. Choose from a selection of patterns and a wide range of coloured glass. At the end of the day you will take home a completed piece, approximately 150 x 200mm in size. SEE RIGHT FOR EXAMPLES
One day weekend workshop: £85 per person
One day weekday workshop: £80 per person
Copper Foil Workshop - Overview & Prices
The One Day Workshop introduces you to the processes devised during the 1880s in the studios of Louis Comfort Tiffany. Choose from a selection of designs and a wide range of coloured glass to produce a finished piece/ pieces with fine detail. SEE BELOW RIGHT FOR EXAMPLES
One day weekend workshop: £75 per person
One day weekday workshop: £70 per person
Payment
Payment can be made by cheque, cash, BACS or via Paypal (which will incur a small charge). Contact Kate by phone or email for any details required
Vouchers
Vouchers are available for sale for Beginners' Workshops and Studio Days - contact Kate for details
Book your Workshop - by email or phone
Feedback from students
"Thank you Kate for a brilliant day learning a new skill- lunch was lovely too!"
M.Middleton, February 2016
"Thanks Kate - really enjoyed the workshop yesterday. Fab day, fab teacher."
S. Causer, August 2014
"I had a fantastic time, will certainly be back, thank you Kate :-)"
J.Motuza, January 2014
"I just had a fabulous one day workshop with Kate - really enjoyable - she is a great teacher and very patient. I would recommend it to anyone who wants to try for themselves - you may surprise yourself with what you can achieve."
G.Adey, May 2013
"Stained Glass Window Workshop birthday present for me and Natasha. It was brilliant and we both came out with our own stained glass panel. The day course with Kate of Billigoat Designs is highly recommended, a very rewarding day with a great teacher."
G.Stone, August 2013
"Did a brilliant day course yesterday, great teacher, good company, lovely food! Thanks Kate"
Jill Popple, November 2013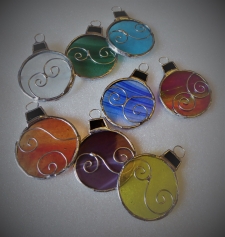 Hand made baubles 2017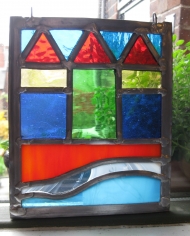 Leaded panel beach huts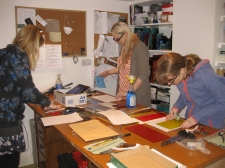 In the studio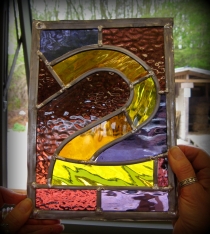 Leaded house number
Beginners piece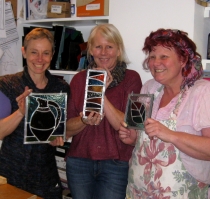 The girls! 50th birthday workshop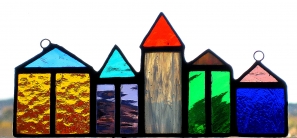 Beach huts in copper foil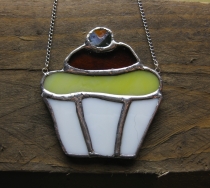 Copper Foil Cupcake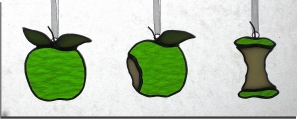 Copper Foil Apples: going, going...gone!